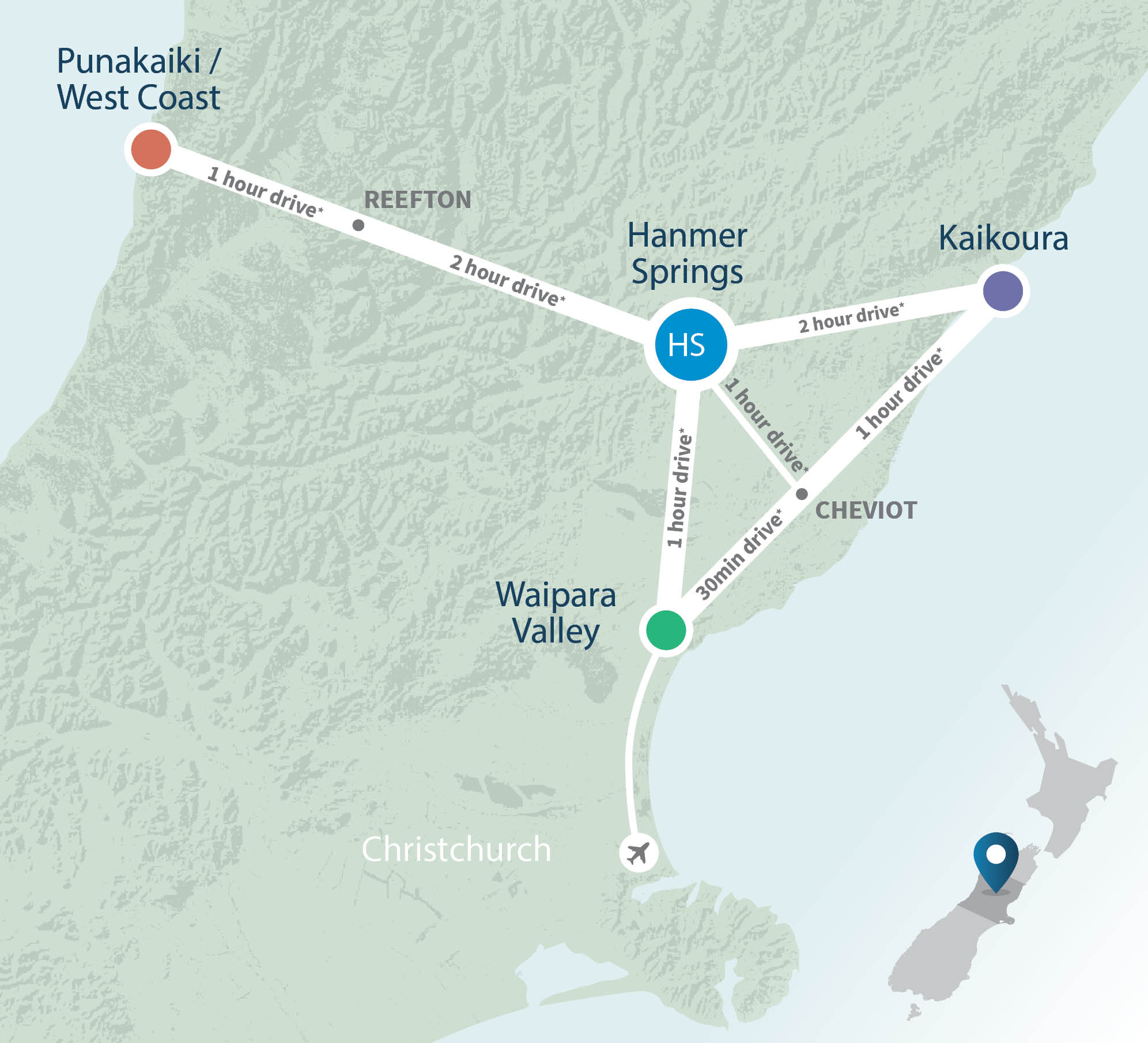 Things to Do around Hanmer Springs – Stay & Explore 'Coast to Coast'
Unpack your bags, stay a few days and explore iconic tourist attractions while based in New Zealand's "Alpine Spa Village".  Enjoy the wonder of Kaikoura's marine life, walk in tranquil alpine landscapes, experience a taste of Waipara Valley's  award-winning wine and food or just totally relax. Back in Hanmer, enjoy world class food & wine while you plan your next  day's adventure. Relax & recharge in our premium accommodation.
You can do it all from Hanmer Springs!    Refer to the 'Specials' page for rates.

Kaikoura
Set stunningly between majestic mountain ranges and the ocean, Kaikoura is one of the most bio-diverse marine environments in the world. Providing visitors with an opportunity to get up close and personal with wildlife including, seals, dolphins and whales. The Maori name Kaikoura translates in English to "Crayfish Food" so it is little wonder that this town is a hotbed for seafood lovers.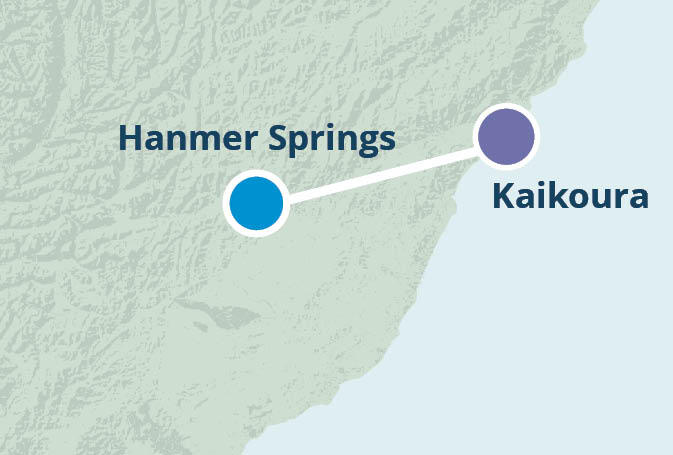 Hanmer Springs – Kaikoura
130 km – 2 hours
Getting to Kaikoura is easy – and it's well worth the trip. The drive along State Highway 7 takes in some of Hurunui's famous limestone formations and the picturesque Waiau River. You'll turn left onto the inland Kaikoura Road which will take you through the historic settlement of Rotherham – you may like to take a peek inside the village's historic cob cottage. You'll find it on the right side of the highway as you head north. Mt Lyford is worth a stop. Mt Lyford Lodge (an enormous log cabin) is great for a bite to eat and a drink and if you take a quick drive to the top of Mt Lyford village road, you'll get to enjoy some incredible views. The rest of the drive is equally pretty, with rolling Hurunui hills and patchwork plains. On the way home, you may want to head south to take in some more of the Kaikoura coastline and Cheviot before heading back to Hanmer Springs via the charming Leader Road. On the way, tiny Waiau has some lovely heritage worth exploring on its village green. Watch out for the Waiau sign on the northern side of the village – the views are sensational and make a great photo stop.

Waipara Valley
Taste award winning wines and enjoy cuisine including local produce, all within reach of a short drive from Hanmer Springs, stopping for morning or afternoon tea at Cheviot or Waiau on the way. Lunch at a winery restaurant with magnificent views will be a highlight.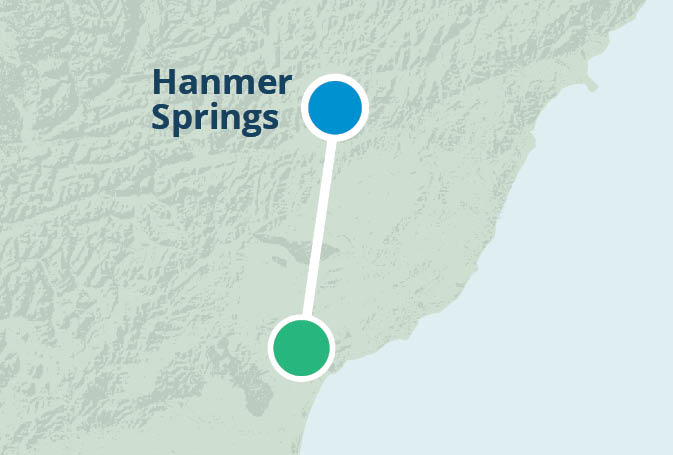 Hanmer Springs to Waipara Valley
78 kilometres – 70 minutes
The Waipara Valley is home to the North Canterbury Wine Region and makes a great day trip from Hanmer Springs. The drive there is easy, taking in some great scenery. As you head south, the first town you find will be Culverden – a great stop with plenty of options for morning tea and some excellent art and craft galleries. Further south you'll head through Hurunui (home to one of the oldest pubs in New Zealand) before hitting the charming township of Waikari. There are some lovely walks around this village – check out the information board near the public toilets on the State Highway. From Waikari, it's through the Weka Pass with its surreal limestone formations – including the appropriately named Frog Rock. Once you're in the Waipara Valley, there is plenty to do with more than 80 vineyards and four winery restaurants: Pegasus Bay, Black Estate, Waipara Hills and Waipara Springs. Each offers a world-class experience and we are more than happy to book you in for lunch. You may also like to check out the Waipara Valley Vineyard Trail which meanders through the area. For more information visit hurunuitrails.org.nz

Punakaiki / West Coast
Your tour to the blowholes and pancake rocks at Punakaiki takes you through the forest clad mountain scenery of the Lewis Pass, Reefton and the beautiful lower Buller Gorge. Along the west coast route, you pass rainforest on one side and the thundering Pacific Ocean on the other. On your journey, back to Hanmer Springs, stop at the gold mining town of Shantytown, near Greymouth, for a trip back in time, complete with steam train and gold panning.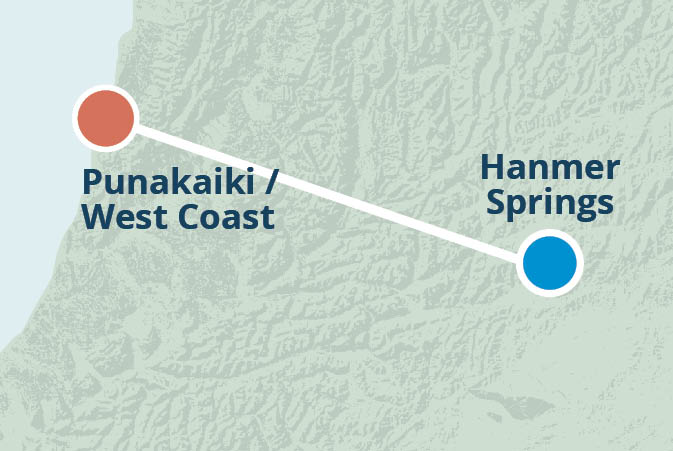 Hanmer Springs to Punakaiki, West Coast
250km – 3 hours, 20 minutes
This is a longer day trip but worth every kilometre, taking in some of New Zealand's most iconic sights. Your destination, the blowholes and pancakes rocks at Punakaiki, is the most popular natural attraction on the West Coast delighting millions of people every year. The journey there takes you through the forest clad mountains of the Lewis Pass and the beautiful lower Buller Gorge. You'll pass through Reefton – a charming small town that was the first place in New Zealand to have a public supply of electricity. Once you hit the coast, the scenery is even more sublime. Rainforest and iconic nikau palms on one side and the thundering Pacific Ocean on the other. On your journey back to Hanmer Springs, stop at the gold mining town of Shantytown, near Greymouth, for a trip back in time complete with a steam train and gold panning.

Hanmer Springs
There's more to do in Hanmer Springs than can possibly fit in one day, so stay a while and tick off some must-do's; walk in the bush to a waterfall, rent an electric bike for an assisted ride around town and easy tracks, mountain bike and ride the forest and hill tracks, ride the water slides, have a massage or soak and relax in the natural thermal springs, drive alongside the Clarence river through the iconic St James Station back country or the historic Molesworth station, see the Waiau river up close by jet boat, raft or bungee jump… the list goes on.